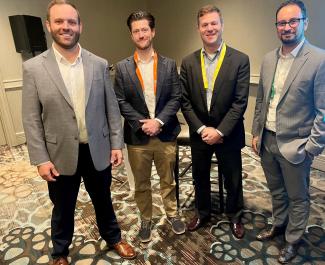 Blue Vault Bowman Summit Recap
Last week, James Bayard, CFP®, had the pleasure of speaking on a panel for the Blue Vault Bowman Investment Summit in Atlanta, Georgia. Blue Vault is a leading aggregator of alternative investment data and analysis. The Bowman Law Firm conducts legal and financial due diligence on various alternative investment products.
The conference aims to help advance financial advisors' knowledge of investing beyond stocks and bonds, including investing in tangible assets such as real estate, farmland, timberland, and infrastructure projects. Over 300 professionals representing 235 firms across the financial industry were in attendance. 
As a user of Blue Vaults research and Bowman's due diligence, James had the opportunity to serve on the Blue Vault advisory board alongside sixteen other financial professionals nationwide. He was asked to participate on a panel that discussed incorporating alternative investments into portfolios alongside Darby Nielsen, Fidelity's Deputy Chief Investment Officer, and Rodney Ibrahim, Managing Director of Alliance Global Partners. The panel, which was moderated by Richard Hillson of Hillson Consulting, discussed the potential benefits of nontraditional assets, including reducing volatility, increasing a portfolio's cash flow, and benefitting from the different sources of returns historically provided by tangible assets.
To say that it was a busy conference is an understatement! In addition to participating on the panel, James attended seventeen breakout sessions in two and a half days. He heard from professionals on various topics, from helping clients define their goals to practicing management techniques to enhancing the due diligence process. Overall the conference provided a good refresher and new ideas to serve the firm's clients better.
This post expresses the author's views only. Capital South Wealth Management, LLC makes no representation, and it should not be assumed that past investment performance indicates future results. Moreover, wherever there is profit potential, there is also the possibility of loss. This post is available for educational purposes only and should not be used for other purposes. The information contained herein does not constitute and should not be construed as an offering of advisory services, an offer to sell, or a solicitation to buy any securities or related financial instruments in any jurisdiction.